Apple has repositioned the Apple Watch as "the ultimate device for a healthy life"—and left Gucci and productivity nerds in the dust.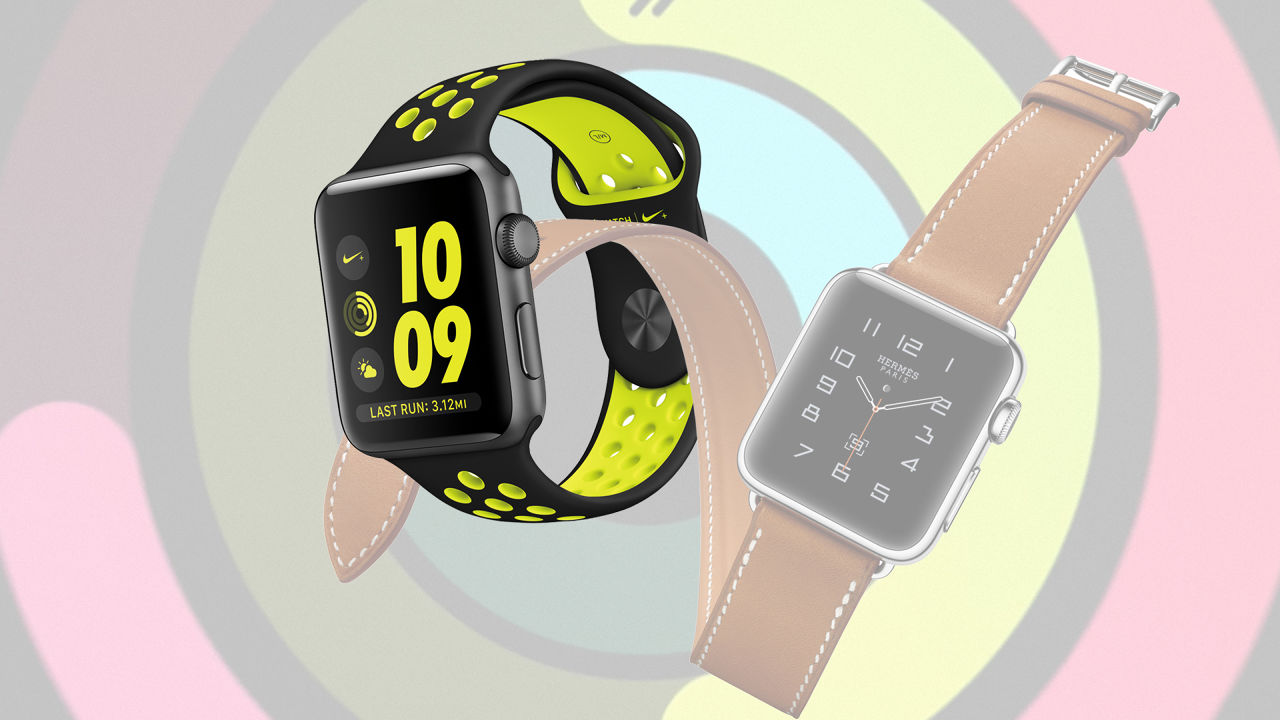 When the Apple Watch debuted in 2015, Apple told us it would be fashionable. It would usher in a new platform for high-tech fads covered in Vogue. It was going to save us time—one second at a time. It was going to do all sorts of things we couldn't even imagine yet, like sharing your heartbeat, or scribbling a shape to a loved one.
But at this week's Apple event, as the company introduced the Apple Watch 2, those promises seemed long forgotten. Instead, in a hero video, a mountain biker flew through the air, stuck the landing, and seemed to answer a call coming through from his mom; another flew up a steep climb before texting he was on his way. A presentation from Nike followed, encouraging users to run on Sundays, because supposedly, people who exercise on Sundays are more active overall. Then Tim Cook subtly dropped what sounded like a new tagline: "It's the ultimate device for a healthy life."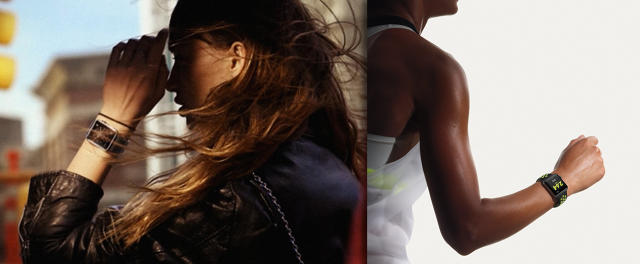 It was a remarkable pivot, and it hints at the watch's fundamental shortcoming: It's a product without an apparent use case. Whereas the iPhone put miniature computers into our hands, and the MacBook fulfilled the promise of truly portable personal computing, the watch is a solution in search of a problem. Apple does not disclose sales figures, but a recent report from the research firm IDC claims Apple Watch sales dipped almost 57% in the first quarter of 2016—this despite that sales at competitors such as Fitbit are up.
Perhaps it should come as little surprise, then, that Apple has backed into the de facto selling point of wearables, a new, old narrative: The watch will make you swole.
The Fashion Pitch
It made sense why Apple chased fashion. The field was crowded with fitness bands, and Apple no doubt wanted the watch to be something more desirable. Apple recruited Burberry's Angela Ahrendts, and paid her $70 million to build Apple into a bona fide retail powerhouse—along with an all-star fashion team including Paul Deneve, Mark Newson, Catherine Monier, and Marcela Aguilar. Apple's fashion push was about more than the watch, of course—it was about turning Apple into a lifestyle brand. But the watch was a linchpin.
When the watch debuted publicly at Paris Fashion Week, and Karl Lagerfeld was photographed trying one on, it seemed destined for immortality. The company recruited big-name designers, like Hermes, to create bands as easily as they do developers to make apps. And what were assuredly highly coordinated sponsorship campaigns, stars like Beyoncé wore them on Instagram. They even made a version in gold—for five figures—and forced appointments to try it on with white glove service. That watch has since been discontinued.
The problem with positioning the watch around fashion? At best, the Apple Watch can't be fashionable for very long because fashion is fleeting. At worst, the Apple Watch just wasn't that fashionable to begin with. Apple may have sold a billion iPhones, but iPhones don't live all day, every day, on your wrist.
The Productivity Pitch
So fashion was a reach. The Apple Watch just needed a killer app, something that made it indispensable to a modern connected worker. The Apple Watch's value at launch became "glances," which was supposed to help make you a more productive person. That meant checking your wrist for the time, or a text message, as if this was a breakthrough the world had never imagined before.
Of course, it doesn't take much longer to pull a phone from your pocket than to check your wrist, and it's certainly no less rude to your lunch mate. That promise of seconds saved, on a $350 device, just didn't mean too much to a nation where most U.S. citizens have less than $1,000 in their bank account.
The Fitness Pitch
And so we're back to this week, at Apple's iPhone 7 event, where they showed off the Apple Watch 2, a device that's almost entirely unchanged, except for a new way of marketing it. Did you see the watch controlling smart lights? Or appearing on a catwalk? Or giving someone directions to a meeting?
No. But there were burpees and golf swings! Aside from introducing a new, white ceramic version—a nod to current design trends—and quickly mentioning some new bands from Hermes, Apple ignored all this fashion and productivity stuff. But Apple was sure to show a splashy home-brew dunking machine, a metal arm that stress-drenched Apple Watches in a tank like they were strapped to an angry Michael Phelps swimming the 200-meter fly. Apple was sure to give Nike several minutes to introduce its custom Nike Plus branded version. "You can wear it when swimming, surfing, or just doing that occasional cannonball," Apple COO Jeff Williams said. The Cannonball: The Apple Watch's first killer app.
And in case you think I'm editing the presentation for argument's sake, realize, no moment was free from fitness. Heck, even when the software developer Niantic introduced Pokémon Go Apple Watch support, the script rounded about to tease the 4.6 billion kilometers players had taken since the game launched. Even this moment of unbridled, monster-catching recreation had to become quantified fitness on Apple's stage.
Who Cares If The Apple Watch Is A Fitness Thingie?
So by now you're probably thinking, "Okay, fine, Apple backtracked a bit, but now it knows what the Apple Watch is for. It reverse-engineered its purpose. Isn't that enough?"
There's one problem with Apple backing into this position selling a wearable fitness tracker: People abandon their fitness trackers. Multiple studies have found that after a few months, many people stop caring about all their pedometer graphs and sleep cycles. (Anyone who has worn a Fitbit knows why. Sooner or later, all of this life quantification isn't really all that meaningful unless you're literally in training.) Even Nike knew to abandon ship after more or less creating the category with the FuelBand. It's a lot easier, and lower risk, to leave the hardware to Apple and just brand it.
And let's be honest about the Apple Watch as a fitness device: It's fine. Call it great if you want. But it's not the 10-generational-leap better than all of its competitors, like the iPhone was when it changed the entire smartphone market. It's just the shiniest of fitness bands in a largely commoditized fitness band market.
But perhaps the company has its eye on the long game. Aside from being yet another fitness tracker, the Apple Watch is also also a network-connected health-focused gadget that interfaces with the most popular smartphone in the world, on the wrists of millions of test subjects in the sort of worldwide, cross-ethnographic field study that that health industry could never match. And while the U.S. smartphone market makes a healthy $400 billion in revenue, the U.S. health care market pulls in $1.668 trillion.
If the Apple Watch is ready and waiting—with 5 or 10 years of proven reliability—whenever our doctors and insurers inevitably tag us like cattle to track our daily activity? Then it's the one purpose for the Apple Watch that's worth backing into.
https://www.fastcodesign.com/3063525/what-happens-when-apple-designs-a-product-that-doesnt-solve-a-problem